SEAI Home Energy Grants - Upgrade Your Heating System
Improve the comfort of your home
Is your heating system due an upgrade? Did you know that you can now avail of a grant through the SEAI Better Energy Homes grants programme?
This grant can help you improve your home heating system by installing a new high efficiency boiler, this will also include heating control upgrades.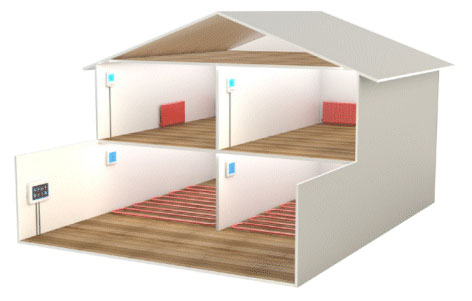 WHAT UPGRADES DO THE GRANTS COVER?
The Home Energy Grant cover the following upgrades:
Home heating upgrades

Solar thermal

Attic insulation

Cavity, internal and external wall insulation
DID YOU KNOW REPLACING YOUR OLD BOILER CAN REDUCE ENERGY USAGE BY 20%?
Old boilers can end up being costly to run and wasteful of energy due to the significant amount of heat that is lost up the chinmey/flue.
By adding modern heating controls this will help you match your hot water schedules and space heating to the living patterns in your home for example, when you need hot water it is there, and when you don't need hot water it is turned off.
This in turn is reducing your energy usage and you could make annual savings of up to 20% on your annual heating bills.
WHO CAN APPLY FOR THESE GRANTS?
These home energy grants are not means tested so all home owners, including landlords whose houses were built and occupied before 2006 can apply.
CHOOSE A REGISTERED CONTRACTOR
When you are applying for the grant you must choose a registered contractor, your contractor must be:
SEAI Registered

Be registered for the work that they are planning to carry out

Have a contract for works in place with you before any work begins, it is required that every contractor must have a written contract with the home owners for all measures that are undertaken under the Better Energy Homes programme.
HOW DO I APPLY FOR THE GRANT?
You can apply for the grant on the SEAI website here, you will need the MPRN number from your electricity bill and the name of your contractor from the SEAI register. You can also apply by post by downloading the application form on the website.
CONTACT US
Sweeney Renewables are SEAI approved contractors please get in touch if you have any questions about the grants or if you would like to speak to one of our contractors please give us a call on 087 8517555 or drop us a line here.