Centralised Vacuum Systems
Installed in New & Renovated Builds
We install central vacuum systems in homes and commercial premises in Ireland. We install these systems into new builds and renovated buildings nationwide.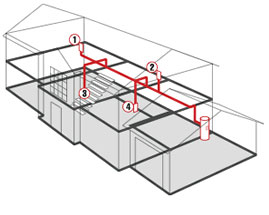 What is a centralised vacuum system?
Centralised vacuum systems are designed to collect dirt and debris that is found in the floors of your home and send it through tubing located in walls to one central collection point or receptacle. Central vacuums therefore remove the need for home owners to carry a vacuum unit from room to room in order to clean the rooms in your house. With this system, there will be a number of inlets located around your home which will be used to collect debris and bring it to the receptacle.
To learn More
Feel free to contact us on 0868517555 to find out more. Alternatively, you can fill in the contact form to request a call back.