Heat Recovery Ventilation Systems
Sweeney Renewables supply ORCA PICO50 local ventilation with heat recovery systems. The heat recovery ventilation systems (HRV systems) are suitable for renovated and newly constructed buildings. The solution will reduce the heating costs in your home and bring a freshness to your living areas.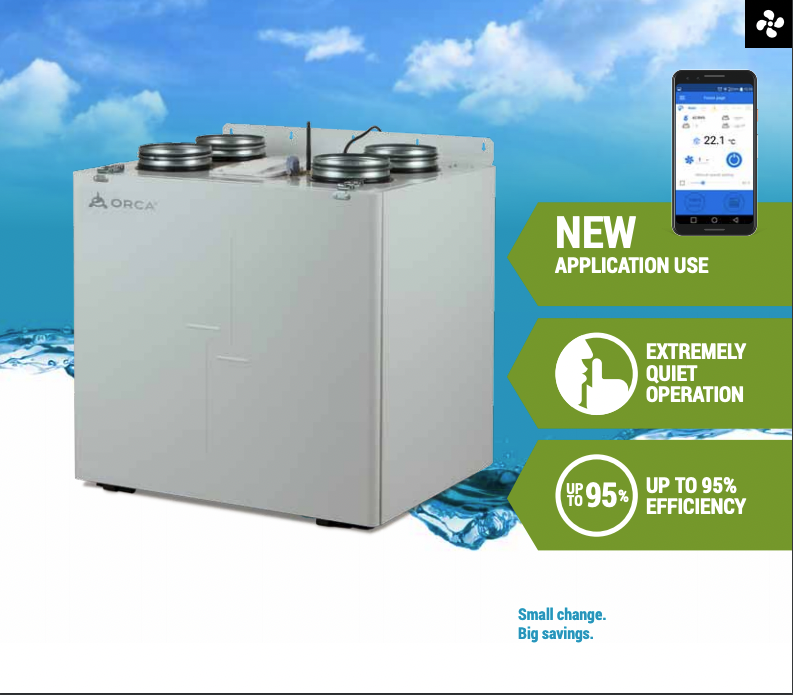 Benefits of HRV systems
Heat recovery ventilation systems, also known as HRV systems provide home owners with optimal living conditions in each room of their home. The system recovers heat from air that evaporates from hot water that is used in kitchens and bathrooms and transfers this heat to the fresh air that is ventilated into the home. By reusing energy this system can save you money on both heating and cooling costs. Heat recovery ventilation systems are suitable for new and renovated passive houses.
Cost-effective
Ventilation systems of the individual rooms are ready-to-use ventilation devices, continuously supplying fresh air, cleaning the air, and at the same time removing the exhaustion air from your rooms
Energy efficient
According to sustainable heat losses in every home, this technology for heat recovery is highly economical and modern.
Diverse
Ventilation devices are individual and useful in every phase of the projects, either when planning the ventilation equipment for new buildings, including post-fitting, as well as when renovating old buildings, or buildings, for which the central ventilation is economically inappropriate.
Highly effective
Efficiency of power generation with ventilation devices is very high, up to 90 %.
Easy and comfortable
Ventilation systems have a compact size and do not require separate connecting elements or air lines. They are ready for immediate use
The Operation of the hrv system
The ventilation system may operate in reverse mode with energy recovery or only in ventilation mode without energy recovery.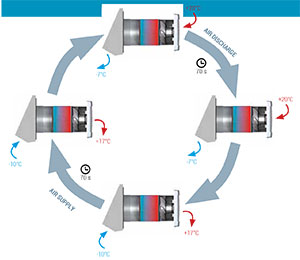 Cycle I.
The warm exhaust air is removed from the room through the ceramic heat collector. The exhaust air heats and moistens the ceramic heat collector and radiated up to 90% of the heat energy. After some time, the ceramic heat collector is warm enough and the ventilation system starts supplying the air.
Cycle II.
Cold, fresh external air flows in through the ceramic heat collector, removing the stored heat and moisture until it reaches the room temperature. When the ceramic heat collector is cooled down, the ventilation system switches back to air exhaustion. Switching between the air supply and air exhaustion is repeated every 70 seconds.
FAQ
At Sweeney Renewables we often get asked questions regarding our Heat Recovery Ventilation Systems. Below you will find the answers to some of our most frequently asked questions.
What are the main benefits of a HRV system?
◘ Fresh air supply ◘ Discharging air from the room ◘ Cleaning dust and insects from the air ◘ Prevention of moisture and mould ◘ Protection against noise from the surrounding area ◘ Heat recovery and moisture regulation in the room ◘ Reducing the heating and air conditioning costs ◘ Low energy consumption
Where is the best location to install the HRV system?
The best locations to install HRV systems are in utility rooms, hot presses or wardrobes, places that have easy access for maintenance purposes.
Can I install the system myself?
We would recommend that you have your system installed by one of our professionally trained installers to avoid any issues during the installation process.
Can I switch off the system?
We would recommend that the system runs continuously in order to keep the air in your home fresh and clean and to avoid the build up of odours and condensation.
How often should the system be serviced?
We would recommend that the system is serviced by a professional once year in order to keep it running smoothly. You can also carry out basic servicing yourself such as changing the filters, directions on how to do so are in the manual supplied.
Why should I install a HRV system in my home?
Installing a HRV system in your home will give you a continuous supply of fresh clean air making your home a healthier place to live and lower heating costs.
How much does it cost to run a HRV system?
This really depends on the size of the unit, the design of the system and the size of your home.
Does the HRV system work with all types of heating systems?
Yes, the system works independently off your heating system, the system recovers heat from the warm air inside your home. It does not matter how this heat was generated, whether by oil, wood pellet, gas, heat pumps, electricity or any other source.
How do I get an estimate?
You can contact Frankie on 086 8517 555 or fill in our request a quotation form for further information.
Should every home have a HRV system installed?
It really depends on the house, installing a HRV system in an old draughty house would have no benefits at all. If you are are carrying out a renovation in a old house and it will be sealed and insulated properly then we would recommend it.
To Learn More about Heat Recovery Ventilation Systems
Contact us now on 0868517555 or complete our contact form for further information on heat recovery ventilation for your home.