Heating Controls Explained
What are heating controls
Central heating controls enable all elements of cooling and heating to be controlled and managed by an easy to use central heating system device. Heating controls help home owners save money and increase the comfort of their home by controlling the level of heating in the area that it is needed the most.
VERY EASY TO OPERATE
Wireless heating controls have a touch screen interface, they are very easy to install and simple to operate.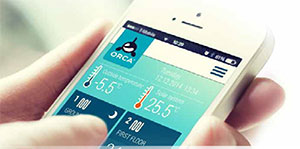 HOW DO HEATING CONTROLS WORK?
Zone designations can be set up and clearly labelled with adjustable settings to enable the user to change the room temperature to the desired heat they want for each room.
You can disable heating in the rooms that you do not use for example guest bedrooms, this will help you save money on your heating bills.
The heating controls offer independant temperatures per room/zone for example bedrooms 20°C, the baby room/nursery 24°C.
There is a programmable timer to allow the user to create their own personal settings. The system also protects against frost even when a zone is not in use.
HOW RELIABLE ARE HEATING CONTOLS?
All central heating control devices are individually tested before shipment this in turn dramatically reduces fall out rates and improves product on-site reliability.
There are no batteries, no replacing, no recurring costs, no leaking issues just 100% reliability.
ARE THERE GRANTS AVAILABLE?
Yes, the government offer grants of up to €400 for home owners to install heating systems in their homes. Find out if you are eligible for a grant here.
MORE INFORMATION
Sweeney Renewables supply simple to operate sensor and touch screen interface wireless central heating controls, we install these systems in homes and business premises throughout Ireland.
Please give us a call on 086 8517 555 if you would like further information about our services.