Plumbers - Become an agent for Coolwex in Ireland
We are looking for plumbers throughout Ireland
Plumbers - Choose Coolwex Water Heating Products
Offer value and savings to your domestic and commercial customers with Coolwex water heating products
Add new customers by becoming an agent for Coolwex systems

Our Coolwex water heating systems are proven to reduce costs by 70%. More figures on the amount of potential savings for your customers are available on request.
Call Frankie now on: 086 8517 555 for more information on becoming an agent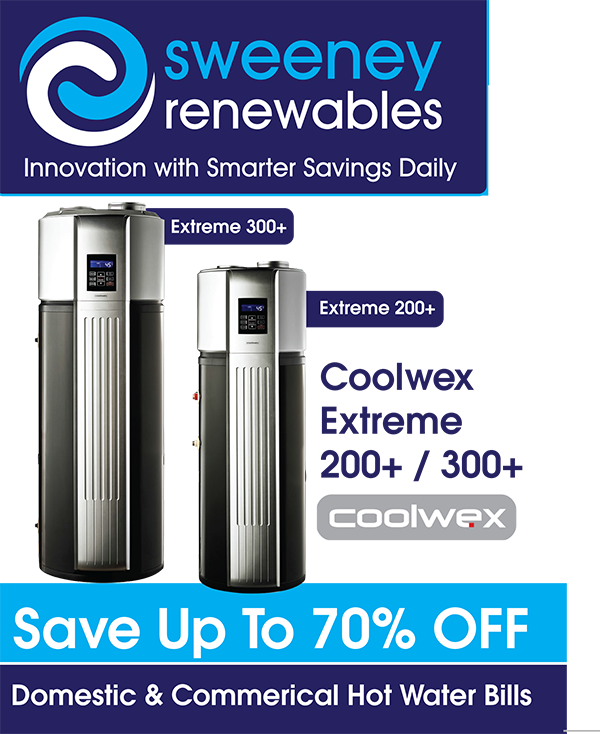 Why is COOLWEX a perfect choice?
Independent water heating throughout the year
Coolwex Extreme Heat pump is one of few on the market that independently heat water throughout the year. Many other heat pumps stop working at 7°C. Coolwex Extreme will independently operate at -7°C or even as low as -15°C with the help of electric heater.
Massive savings with 12 year guarantee
Coolwex Extreme Heat pump is designed to give you 3 years payback on your water heating costs. Contact us for your free savings review. Its 12 year guarantee and 2 year parts warranty is for piece of mind that choosing Coolwex makes good business sense.
Clean and healthy water
Coolwex Extreme Heat pump saves water in a stainless steel boiler and thus keeps it clean and healthy.
Summary of benefits:
Hot water all day all year
No immersions, electric showers, oil or gas required
70% savings annually
Unit paid for in less than three years
300 litre stainless steel pressurised tank with heat pump incorporated
Large user friendly display for setting change
50 mm insulation for low heatloss
Secondary coil for connection to solid fuel stove etc.
Virtually maintenance free
Customer testimonial:
Domestic Customer example:
"Since installing the Coolwex water system in our home , it supplies us with constant hot water and has considerably reduced our electricity bill; by approximately €150 every two months. As a result of the retro fit we no longer have electric showers in our house as they have been replaced by power showers which are much better. We also no longer have an immersion which we often forgot to turn off!"
Denis, Donegal town
Business customer:
"We were looking to reduce the energy consumption in O'Briens Irish Sandwich Bar, Wexford to keep costs down. We found that the biggest cost was the heating of our water. We for the got the 300ltr Coolwex extreme installed 4 months now and has slashed our hot water costs by 2/3′s and we never run out of hot water. It is providing hot water for all of our wash up sinks, three customer rest rooms, staff rest room and also supplementing our dishwasher.
Another big advantage we found with the system is the cold air exhaust which we have cooling one of our food stores. We would highly recommend the Coolwex extreme hot water system and will be installing them in all our other outlets in the very near future.
Micheal Hayes
Proprietor Of O'Briens Irish Sandwich Bar, Wexford,Waterford and Cork, Ireland
THE HOME RENOVATION INITIATIVE (HRI)
The new Home Renovation Initiative was announced in the 2014 budget which will begin for renovation work carried out after January 1st 2014 and throughout 2015. HRI will provide an income tax credit of 13.5 per cent for home owners on home improvement expenditure of between €5,000 and €35,000.
Make the most of the scheme by providing your customers with Coolwex water heating systems that reduce heating bills up to 70%.
To get more information on Coolwex products phone; 086 8517 555.