Water Heating Systems for your new Build
Choosing the right water heating system is important when building your new home. We have compiled some useful information for you to consider when constructing your dream home.
When building a new home, one of the most important tasks is to install a water heating system. Choosing the right system can save money on energy bills in the future and reduce your carbon footprint.
Things to consider for installing new water heating systems in new builds
1. It is important to select a water heating system that will provide you with heated water all year round.
2. Heating systems that carry a lengthy guarantee and parts warrenty is also important factor to consider for installation in new builds so choose a good quality branded water heating system when possible.
3. It is useful to consider where to install a water heating system at your new dwelling. Some heating systems can be installed in boiler rooms, cellars and in some instances in living quarters.
4. The costs of a water heating system, should take into account; the cost of the system, the cost of installation, the cost of maintenance and the cost of running the system.
5. Choosing the energy source in which to power your water heating system is an issue to consider. Depending on future prices of energy, the savings and cost can vary. Choosing an energy efficient system can outweigh the future prices of energy.
Water Heating systems available for your new home.
Coolwex heat pumps offer savings on heating bills with economical heating of sanitary water.
Coolwex heat pumps are proven to save up to 70% on water heating bills offering a cost effective solution for heting sanitary water.
Other advantages of using a Coolwex heat pump include;
Provides heated water all year round
Has a lengthy 12 year guarantee
Easy to install and can be installed in living quarters
Proven to reduce energy bills for heating water with up to 70% savings annually
See the brochure below for more information on the savings and benefits of choosing a Coolwex water heating system.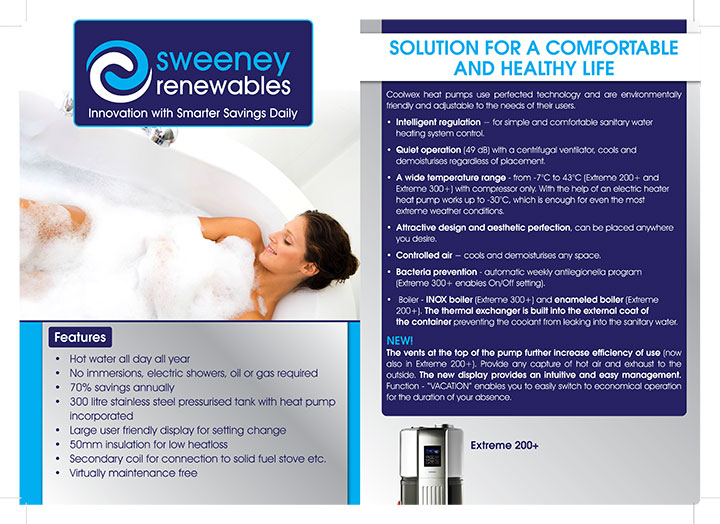 For more information
Contact us on 086 8517555 for your free savings review or fill in the contact form for a callback.
Add your comments
If you have any experience on installing water heating systems when building your new home which would benefit others, please comment below.